| | | | |
| --- | --- | --- | --- |
| | | Club manager software | |
| | | |
| --- | --- | --- |
| | | |




Streamline club administration with online club management software.


Most sports clubs are run by hard working volunteers who spend long hours performing administration tasks that could be done in a fraction of the time by using the SportsNoticeboard Club Manager software.

Managing a club and ensuring that all members have the latest information are difficult tasks. To manage your club effectively and efficiently use SportsNoticeboard Club Manager software and make your life easier.

Sports Noticeboard allows you to manage your entire club events at all levels.


Cost


The club manage software is available both as a free and chargeable solution. The difference between them is that the charged at 50 cents / user / month is fully supported and has no banner ads.


Club Calendar


To begin with you can display on the SportsNoticeboard your club calendar showing the dates and details of :


major tournaments, such as finals for the tennis
gala and athletics days
registration deadlines for various sports
age group carnivals

This can be a one page summary where students, parents, administrators, and coordinators can check what school sports have been scheduled.




club event calendar



Registrations



One of the most time consuming tasks for club administrators is processing registrations. This can now be done online and integrated into all functionality of SportsNoticeboard.

This allows :


easier creation of registration forms
allocation of registrants to teams
ability to print the registration forms
upload via spreadsheet members
have multiple registrations
parent / child registations






Club registrations


Age group management


Beneath the school sports calendar is the age group or specific sports calendar. All the tennis teams, under 13ís sports teams, and coaching teams would be included in these calendars.

This allows :

easier management of an age group
viewing of all games being played this weekend by the tennis teams
production of a list of all the participants who are in the under 14s
parents to have a definitive, up-to-date list of contacts
users to check a complete list showing the status of all games being played, how many players have responded, where and when the match will be held, and the identity of the opponents
coordinators to broadcast messages to entire age group / sports teams


Now everyone in the age group / all the football teams are on the same page for details of their sports.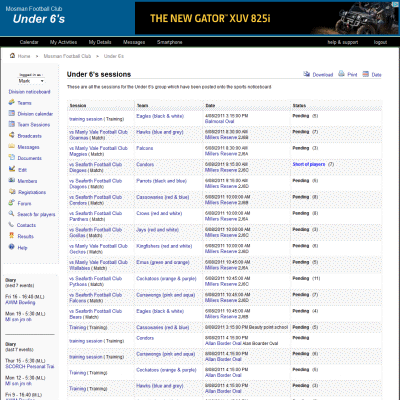 Age group / sports calendar


Team management


Each team within the club can have its own team notice board so that it can be managed online.

The team can :

view all its games for the season
view availabilities of the players for each game
access an up-to-date list of players
conduct a discussion forum
list the teamís resources
maintain a directory of its coaches and support staff
maintain an historical record of results

By using the sports mobile app, , particpants can access the SportsNoticeboard to find out where their games are being held and signify their iavailability.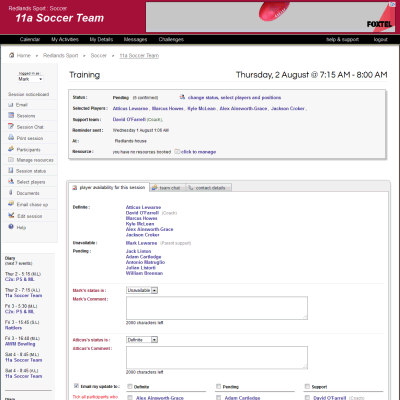 club team management


Club resource management


Managing club resources is now easier using the SportsNoticeboard.

Coordinators, managers, captains, and teams can now :

book a resource (ground, court, pool, etc) online
manage resources more effectively
change or cancel a booking if necessary, and inform everyone who needs to know
see which resources are being used the most
maintain a record of coaches and support staff to monitor the hours worked

Bookings made on SportsNoticeboard can be accessed by each team on its team SportsNoticeboard ensuring reliable information flow.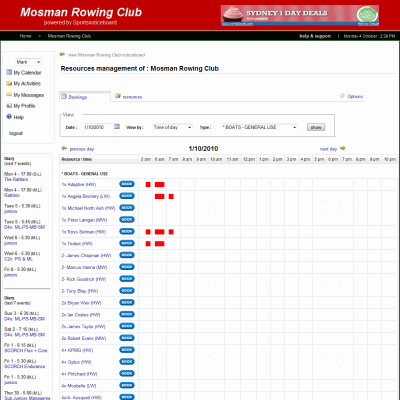 Sports resource management


Club Communication


Communication within a club is often difficult and time consuming updating email lists, maintaining email privacy and sorting emails. SportsNoticeboard fixes all this.

Functionality includes :

members can decide which email address they want to use
email addresses can be kept private if necessary
emails can be sorted by team, club, association, etc
parents can select the email address for their child
protecting email addresses from spam
Want to find out more or have any questions?
click here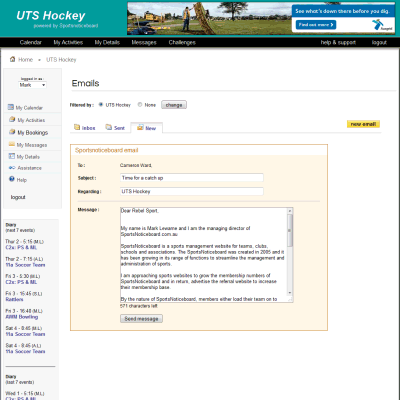 Club Sport Communication

| | | | | |
| --- | --- | --- | --- | --- |
| | Noticeboard Functionality | Sports Venues | Clubs | Noticeboards |
| | | | | |

Made in Sydney, Australia

© Copyright Sportsnoticeboard 2012. ALL RIGHTS ARE STRICTLY RESERVED.