| | | | |
| --- | --- | --- | --- |
| | | Manage sports team online | |
| | | |
| --- | --- | --- |
| | | |



Manage sports team online

Sports noticeboard gives clubs and teams the ability to manage their sports teams online.



Use the sports noticeboard to manage online your team or crew for any type of sport. Replace the multiple forms of communication, spreadsheets, documents and lists which exists in your team or crew with a single point of up-to-date information.


Features include :


A calendar of all upcoming games and training sessions.
Results of games.
See the status of each games, where the game is, when and how many can come.
Use the sports noticeboard for all your teams your family plays.
Keep in folders on the sports noticeboard the photos which have been uploaded.
A complete team list of current participants.
A complete list of the support team - ref, ball boys, lines men etc.
What resources does your team use? Rowing boats, courts, kits.. whatever your team uses and needs to book.





An executive summary of games, photos,
members, forums and support staff.




Match and training details all online.


For each game view :


Which team your playing against.
Team availabilities and who has been selected.
Game status [on / off / weather check / bye etc].
Date and time of the session and when reminders sent out.
Where is the game with a google map link to the exact location.
Which support staff will attend.
Which resources you have booked.
Chat about this specific game / session / match / training session / meeting.
Upload a document for just this session.







Full game details.



Manage members.
Manage the teams contact details in one place.
Upload from a spreadsheet your current contacts.
Replaces spreadsheets, team print out lists which get outdated during the season as people change details.
When you change your details, you no longer have to advise all your teams - as they will access your latest details.
Simply invite new members or place members from your club into your team.
Lists the support staff and their contact details!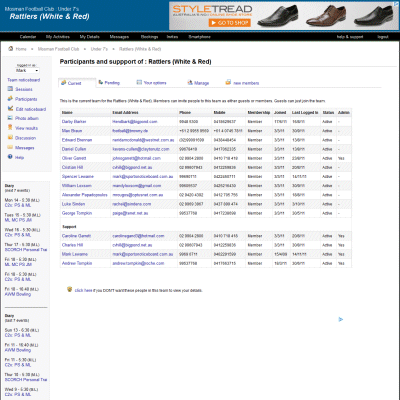 All your team contact details.



View your sportsnoticeboard on your smartphone

On your smartphone you can :

Update your availability and view your teams - from anywhere.
View all your games and matches.
Access contact details of your team.
Google maps to the games.
Which resources you have booked.
Want to find out more or have any questions?
click here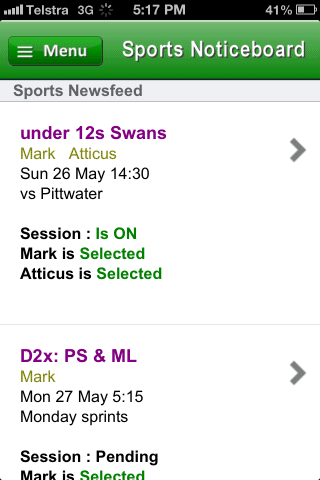 Sportsnoticeboard on your mobile

| | | | | |
| --- | --- | --- | --- | --- |
| | Noticeboard Functionality | Sports Venues | Clubs | Noticeboards |
| | | | | |

Made in Sydney, Australia

© Copyright Sportsnoticeboard 2012. ALL RIGHTS ARE STRICTLY RESERVED.